Red Dead Online is officially out of beta testing and is beginning to earn its stripe as a fully-fledged online game. But with such a massive open-world to explore in Red Dead Redemption 2's single-player story, why should you be excited about the game's online mode?
Rockstar's open-world Western game, a prequel to 2010's Red Dead Redemption, was released to wide critical acclaim last year and was all anyone could talk about for months on end. 
While you might have expected an online mode to be live from the game's successful launch, it makes sense that Rockstar wants you to focus on the main story – and boy is there a lot of it – before waltzing into a less narrative-driven multiplayer experience in Red Dead Online.
Rockstar has proved itself at converting a massive single-player game into a lively online experience, as shown in the launch of GTA Online in 2013, which has become almost as massive a phenomenon as the mainline GTA V game it spun off from.
So what can you expect from Red Dead Online, and how can you access it?
UPDATE: In the latest Red Dead Online update, Rockstar has announced the arrival of the fourth Legendary Bounty and new collectables. Keep reading to find out more.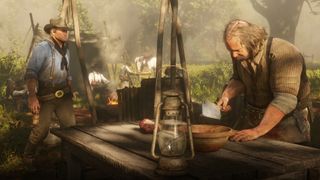 Red Dead Online update news and patch notes
The latest Red Dead Online update has announced the arrival of the fourth Legendary Bounty, new collectables, and much more.
The fourth of ten new Legendary Bounties – the bounty for Sergio Vincenza:
Military defector and skilled sharpshooter Sergio Vicenza is Red Dead Online's latest Legendary Bounty, last seen around Roanoke Ridge. Any players that complete the bounty will recieve an exclusive colorway of the Inglett Scarf plus 100 rounds of Express Rifle Ammo.
Some collectables:
Madam Nazar is on the lookout for the Naturalists Collection containing the Cherrywood Comb, Egret Egg and Bitterweed. There's a big payout for any Collector who delivers all three this week. 
Extras:
To celebrate spooky season, any player that logs in to GTA Online between October 10 and December 12 will receive the new Slaughter Mask in Red Dead Online.
Any players who connect their Social Club and Twitch Prime accounts receive the Bounty Hunter's License for free.
PlayStation Plus subscribers can claim their Butcher's Table at no cost and anyone who collected all the hidden playing cards in GTA Online can grab the Collector's Satchel for free, all until October 14.
A limited time 5 Gold Bar Discount is also available for all three Frontier Pursuits during the same time period.
Red Dead Online: tips and tricks guides
The wild west is dog eat dog. So make sure you're not the mutt of the litter with our Red Dead Redemption 2 guides, which cover everything from fishing and hunting to mini-games and weapons.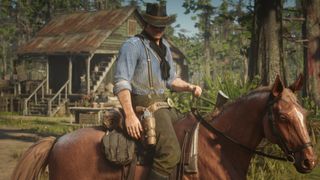 Red Dead Online: how to access
It doesn't take much to jump into Red Dead Redemption 2's online mode. 
You can access Red Dead Online by selecting the 'Online' option from the Red Dead Redemption 2 title menu ( which you can find at the top-right hand side of the screen). 
You then pick which online mode you would like to play and you're ready to get started.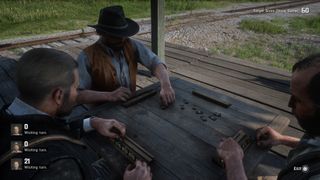 All Image Credits: Rockstar Games